2019 DEMO ProPacker-250 Blister Machine in stock - FOR SALE!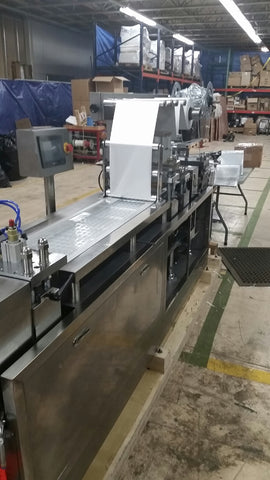 IN STOCK - 2020 Demo ProPacker-45 Blister Packaging Machine - FOR SALE!
(Previously listed ProPacker-250 2019 Demo Machine is Sold)
This machine is used with low hours of operation and used only for customer demonstrations.

The machine is located at our production plant in River Falls, WI - We will include the machine, a set of tool change parts made to your package requirements. We offer training, installation, and after-sale support for all blister packaging machinery.

The PP-45 Automatic Blister Packaging Machine is a large capacity and medium to large production automatic blister packaging machine perfect for pharma, pharmacy, hospital pharmacy, lab use, contract packaging, clinical trials, and other medium to large scale packaging needs for all solid dose medications using Alu/Alu, PVC, and foil backing blister packaging materials. Options include solid dose feed systems, print registration for pre-printed foil, printing systems, and cartoning (options).

Click here to watch operational video of the PP-45 on our floor.
Specifications:
Web width: 250mm Max.
Speed: 10-35 Index per minute - Intermittent motion

Index Range: 10-160mm
Packaging materials: Alu/Alu, PVC, PVDC, Aclar, Foil, Paper/Foil and other standard materials.
Power: 220v single phase AC
This machine is in stock and ready for delivery. If new tools are required, estimated delivery is 6-8 weeks. We offer training, installation, service and consumable materials!
Click here to contact us for a project consultation, full specifications and quote.
Please do not attempt to purchase this product through the site shopping cart system. This product must be quoted.